1. What is a No-Crush Wheel?
A No-Crush Wheel is a wheel made from durable, polyurethane material specifically designed to give flex or compliance, and avoid crushing the material or item it is coming in contact with. The design of a No-Crush Wheel allows for the wheel to deform around the materials they come in contact with, without losing their shape or becoming permanently deformed. They are designed to provide pressure or force onto a material or object, but have "give" as well.
2. Where are No-Crush Wheels generally used?
No-Crush Wheels can be utilized in a wide variety of uses but are most commonly found in applications such as bottling, labeling, and packaging equipment, corrugated cardboard machinery, and a range of other food, beverage, and consumer packaged goods (CPG) applications.
No-Crush Wheels can be used to hold down materials to apply pressure and resistance onto a material or surface. Picture two materials being sandwiched together with a product between them which varies in thickness. As the material passes by, the Zero-Crush Wheel deforms to the thickness of the object being sandwiched.
They are also oftentimes used to "stop" objects that need to be held and then released on to the next step of a process at the appropriate time – and are therefore occasionally referred to as 'Indexing' or 'Pacing' wheels.
The wide range of durometers and profiles which NoCrushWheels.com offers allows for our No-Crush Wheels to be used in a wide range of applications and uses. Within reason, no matter the amount of force or pressure which is required, Zero-Crush wheels subsequently "give" or squish. This interesting style of wheel can provide a unique way to drive, idle, or convey products and materials which vary in size and shape between parts.
3. Which direction should I mount a No-Crush Wheel?
This is a commonly asked question about No-Crush Wheels and one that generally depends on what the No-Crush Wheel is being used for in the application.
Applications in which material is being driven/fed by a No-Crush Wheel are mounted opposite from applications in which the No-Crush Wheel is idling. This is done so that the spokes of the Zero-Crush Wheels best allow for compression while they are coming in contact with the materials they are driving or idling.
It should be noted that all applications are typically unique to their own degree, but on a general whole these guidelines can help you decide which orientation is best for your No-Crush Wheel.
Use this helpful diagram as a guide to determine the orientation of your No-Crush Wheel for best results!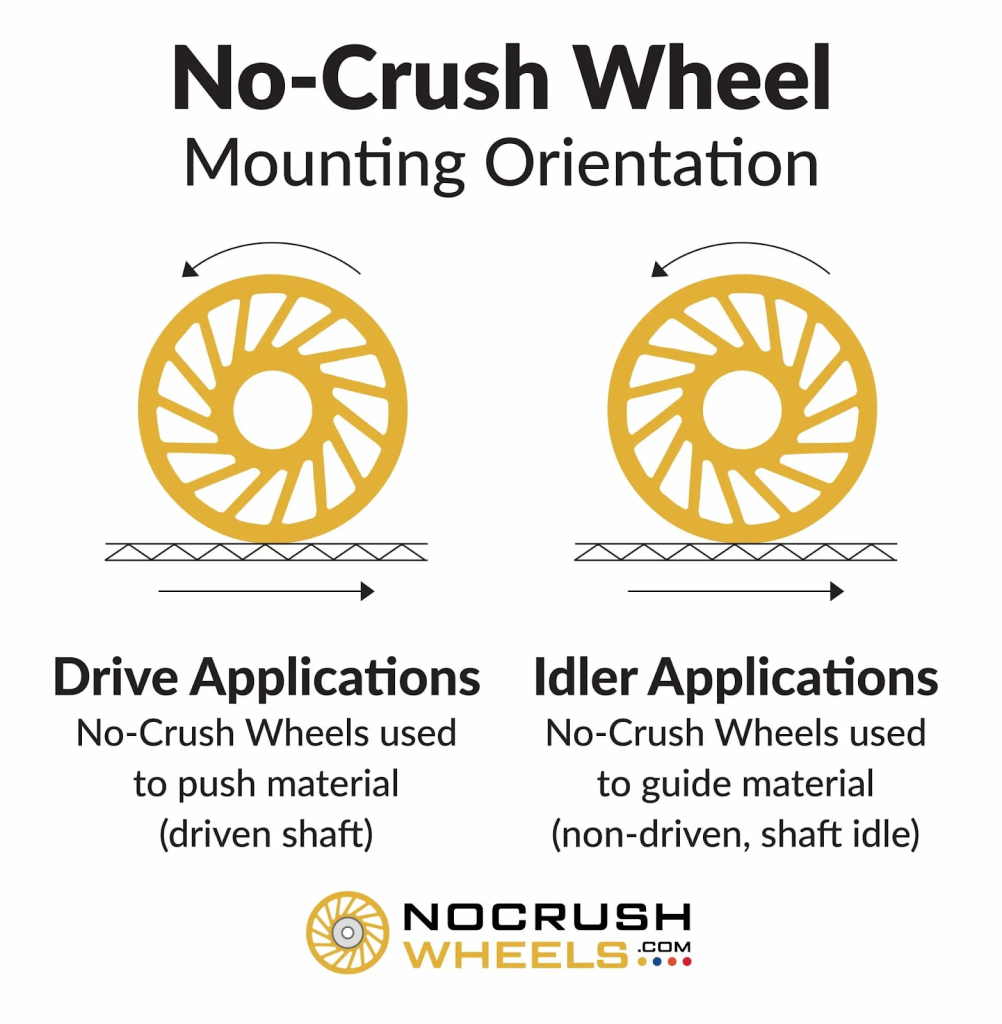 4. What is durometer, and what is the right durometer of a No-Crush Wheel?
This is a very common question related to selecting a No-Crush Wheel, but perhaps the most challenging one to answer accurately! NoCrushWheels.com by Meridian Laboratory manufactures Zero-Crush Wheels ranging in durometer from 40 Shore A to 90 Shore A. The chart below gives you a reference of durometer compared to everyday items.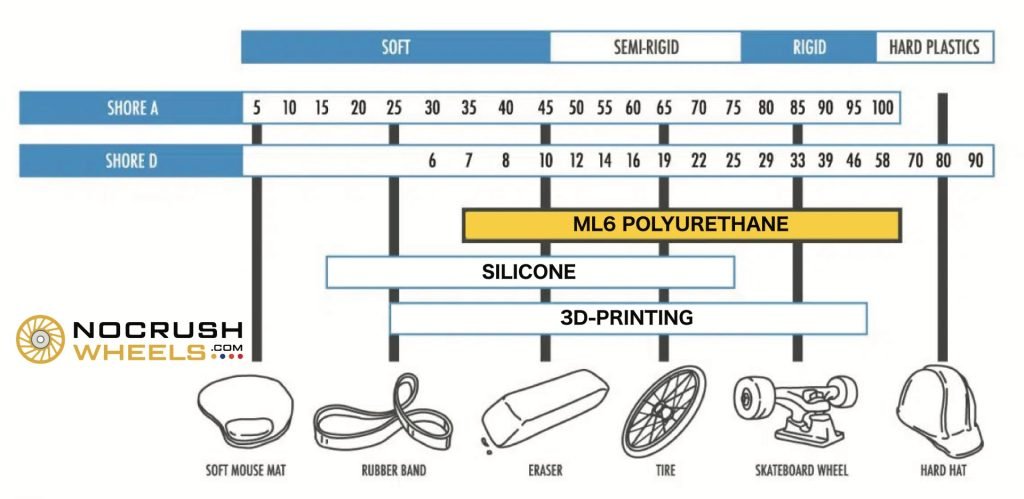 The durometer of a No-Crush Wheel can generally be correlated with how much compliance or "crush" the actual wheel will exhibit while coming in contact with a surface or material. A harder durometer or larger diameter No-Crush Wheel will exhibit less "give" or compliance than one with a lower durometer or smaller diameter. While there is no SAE spec or any type of "standard" amount of flex a No-Crush / Zero-Crush Wheel should exhibit, here are some common things to take into consideration when making a selection of No-Crush Wheel for your application:
Force / Load: A heavy item, or one where a large amount of force is desired to hold down, or make contact with the No-Crush Wheel would require a higher durometer No-Crush Wheel. The lower the durometer, the less force will be required to "crush" or deform the No-Crush Wheel.
Rigidity of Item in Contact: In a labeling application, more delicate items such as corrugated cardboard boxes and paper products will be much less rigid than say a glass bottle passing by it. In both applications pressure is needed to apply a label, but a pre-made cardboard box will be much more susceptible to being crushed versus a glass bottle being broken by the same durometer and size of No-Crush Wheel.
Other Machine Adjustments: For applications where there is a large amount of variance between the objects and materials coming in contact with a No-Crush Wheel, it is recommended that other areas allow for adjustment in position, beyond just relying on the "give" or compliance of a No-Crush Wheel. This can include hinged and spring loaded axles of rotation, machine screws or threaded rods, and other fixturing with adjustment opportunities.
Tech Tip: The most popular durometer of No-Crush Wheels is Shore A 40 durometer, also referred to as '40A'.
Generally speaking, it's best to choose a durometer of No-Crush Wheel to where the load/force exhibited onto the wheel does not completely "crush" the internal spokes of the wheels, as this will thereby max out the compliance of the No-Crush Wheel. The great part is that NoCrushwheels.com offers five durometers (40A, 55A, 70A, 80A, 90A) to meet all the needs of your exact application.
5. Why are there so many names for these wheels?
This is a question we even ask ourselves at ​​NoCrushWheels.com sometimes, and to top it off we are certain we haven't even heard them all yet!
Whether at tradeshows, during phone calls, or in-person visits – we hear these types of spoked wheels get called all kinds of different things. About the only thing consistent about their inconsistent naming convention is that the names typically have less to do with their shape, and more about where they are used and what they do.
Some, but likely not all of the names these types of wheels get called include:
No-Crush Wheels
Zero-Crush Wheels
Flex Grip Wheels
Durasoft® Roller AlternativeWheels
Pacing Wheels
Metering Wheels
Bottle Spacing Wheels
Hold-Down Wheels
Spider Wheel
No-Crush Wheels are incredibly versatile in how they can be used in applications, and below are just a few examples of how they are used and potentially some insight on where this growing list of names may have stemmed from.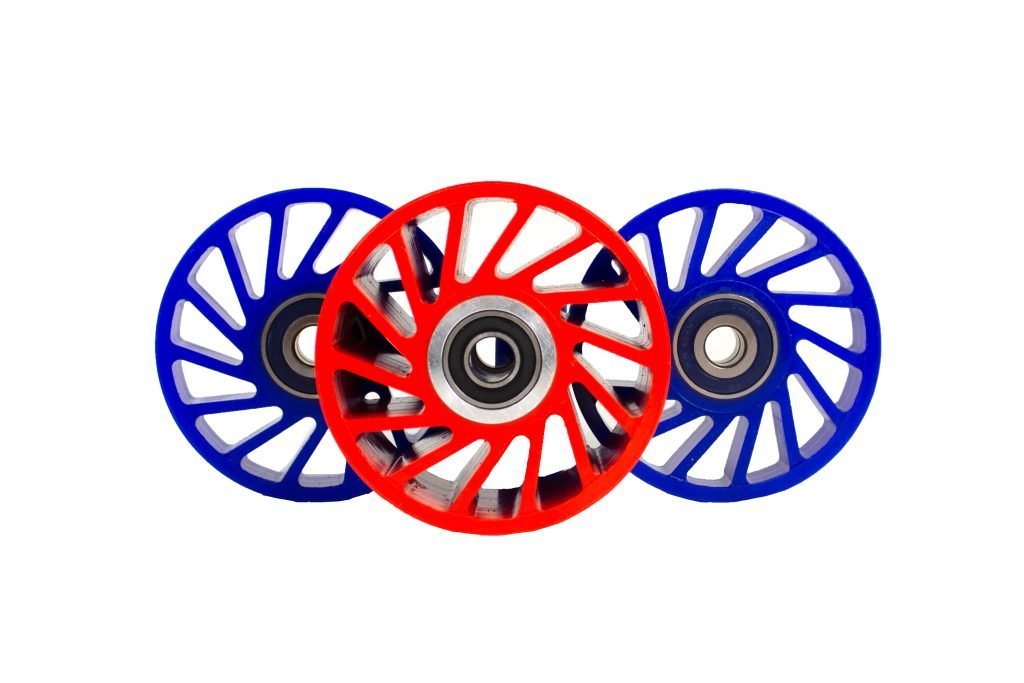 No-Crush, Zero-Crush, and Flex Grip Wheels imply that whatever object they are coming in contact with presumably does not get damaged or crushed in the process of passing by the wheels – all the while applying grip or pressure. For example, corrugated cardboard boxes passing by a wheel which applies pressure to a label applicator needs "give" to account for variability in box dimensions during a production run. A No-Crush / Zero-Crush Wheel will have "give" built into it, and subsequently avoid crushing or damaging the corrugated cardboard box.
Pacing, Metering, Indexing, and Bottle Spacing Wheels generally implies something is held back by the wheel until the appropriate time where the wheel is indexed to then allow for the product to pass along to the next step in the process. For example, picture a series of wine bottles on a linear conveyor line that get labeled by an applicator machine. The group of glass bottles will stack up and the Pacing / Metering / Bottle Spacing Wheel will index to allow individual wine bottles to pass on and get labeled before moving on to the next stage of the process.
Hold-Down Wheels imply that some type of product is being held down onto a base layer, or potentially "joined" to another material but it needs "give" to allow for variance in material thickness. An example of this would be two layers of adhesive backed papers that package a product within a void in the center. Obviously pressure needs to be applied to the materials passing by, while allowing for "give" when the actual product being packaged (sandwiched) passes through.
As for Spider Wheels — well, that's anyone's guess and the closest thing we have been able to deduce is from the shape of the wheels themselves, but if you have other thoughts, by all means, Contact Us — we would love to hear even more names for these interesting wheels!
We hope that you've found this brief summary of No-Crush Wheels helpful and look forward to helping you with your toughest applications. Please Contact Us for more information and to get started!