Now Introducing: No-Crush Idler Wheels!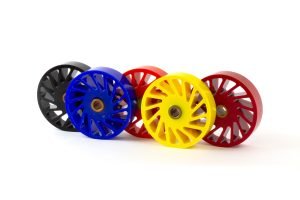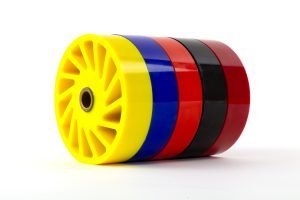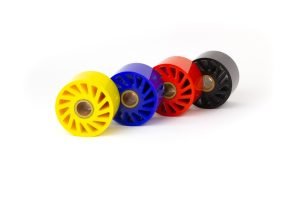 No-Crush Idler Wheels utilize an Oilite SAE 841 Sintered Bronze as their core material. They are commonly referred to as Oilite Bushings or Oilite Sleeve Bearings. They are made from a profuse bronze material which is self lubricating. The primary purpose of No-Crush idler wheels is to rotate freely on a shaft and prevent the crushing or damaging of materials as they move on a conveyor line, or material passes by. By utilizing No-Crush Idler Wheels with superior ML6 Polyurethane, companies can increase the performance and longevity of their equipment or products which they come in contact with.
What are No-Crush Idler Wheels used for?
No-Crush Idler Wheels are commonly used for lower speeds or load applications. No-Crush Idler Wheels are designed to spin freely on a shaft and are a simpler, lower cost alternative to ball bearings. Generally, No-Crush Idler Wheels are ideal for the vast majority of applications that No-Crush Wheels would be used in. No-Crush Idler Wheels are available in many common shaft sizes with different durometers and we have other sizes available on request.
Durability and Longevity
Zero-Crush Idler Wheels are built to withstand demanding industrial environments. They are constructed using high-quality ML6® Polyurethane that has exceptional durability and resistance to wear and tear. The Oilite bushings which they are bonded to last exceptionally well under rotation and use. This gives our Zero-Crush Wheels a longer lifespan, reducing the need for frequent replacements and maintenance.
Versatility
No-Crush Idler Wheels are available in various sizes, configurations, and materials to suit different applications. Whether it's handling thin films, paper, cardboard, or other delicate materials, these wheels can be customized to meet specific requirements. Their versatility makes them suitable for a wide range of industries.
Current Options Available for No-Crush Idler Wheels:
Outside Diameter: 2.5" – 6"
Width: 1" – 2"
Bore Diameter: 0.25" – 1"
Shore A Durometers: 40A, 55A, 70A, 80A, and 90A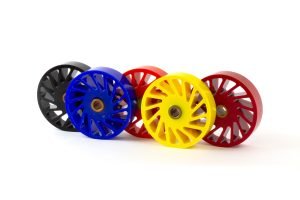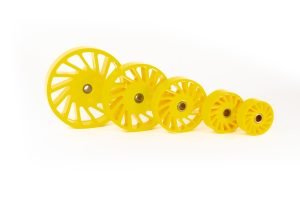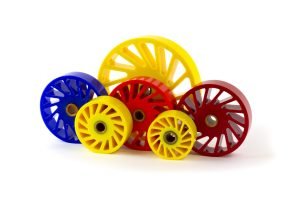 Summary
NoCrushWheels.com continues to add new products and product variations to provide the best selection for your application. If you're looking for a very specific type of No-Crush Wheel, NoCrushWheels.com has the ability to match the profile and sizes of any existing No-Crush Wheels you might have, quick and cost effectively. If you have a drawing or sample Zero Crush Wheel of what you are attempting to source – please Contact Us and we would be happy to help!